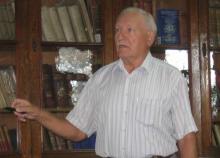 Position
senior researcher
Education
V.V. Kuybyshev Far Eastern State Technical University, 1961, mining and geological engineer
Area of expertise
Marine geology
Geodynamics
Research highlights
Morphotectonic maps of the Sea of Okhotsk, Sea of Japan and Philippine Sea.
Key publications
Мельниченко Ю.И. Глава1. Рельеф и геоморфотектоника // Геологическое строение западной части Японского моря и прилегающей суши. Владивосток: Дальнаука, 1993. С. 6-25.
Мельниченко Ю.И. Рельеф Амирантской дуги // Геологическое строение Амирантской дуги в Индийском океане. Владивосток: Дальнаука, 1997. С. 7-23.
Melnichenko Y., et al. Geomorphologic characteristics of the Kyushu-Palau Ridge, Philippine Sea // Z. Geomorph. November 1999. P. 183-192.
Мельниченко Ю.И. Морфотектоника морей северо-западной окраины Тихого океана. Автореф. дисс. к.г.-м.н. Владивосток: ТОИ ДВО РАН. 2003. 23 с.
Мельниченко Ю.И., Сваричевский А.С., Белоус О.В., Леонова Т.Д. Рельеф дна и морфотектоника Охотского моря // Дальневосточные моря России. Кн. 3. Геологические и геофизические исследования / отв. ред. Р.Г. Кулинич- М.: Наука, 2007. С. 155-164.
Изосов Л.А., Чупрынин В.И., Мельниченко Ю.И. Фундаментальная проблема соотношения вертикальных и горизонтальных тектонических движений. // Региональные проблемы. 2012. Т. 15, №1. Ч.1. С. 15-26. Тоже 2012. Т. 15. №2. Ч. 2. С. 12-20.
Изосов Л.А., Чупрынин В.И., Мельниченко Ю.И., Ли Н.С. и др. Связь сейсмической активности с тектоническими и вулканогенными структурами япономорского звена Западно-Тихоокеанской мегазоны перехода континент-океан. // Литосфера. 2014. №6. С. 3-21.
Advanced research
Morphotectonics of East Asian Seas.
Involvement in national and international projects
RFBR project 15-05-06638 (2015-2017), responsible executor
"Far East" program (2015-2017), responsible executor
Contributions to conferences
Additional information
Participant of marine expeditions to the Pacific and Indian Oceans and marginal seas; geomorphological survey squad chief in 13 expeditions.