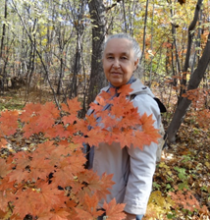 Education
Far-Eastern State University (1974), biologist, botanist.
Area of expertise
Palynology of the late Cenozoic in Far-Eastern Seas.
Key publications
Monographs:
Точилина С.В., Вагина Н.К., Попова И.М., Ремизовский В.И. Верхний кайнозой Южного Сахалина (по опорным разрезам рек Малый Такой, Бачинская). Владивосток: ДВО АН СССР, 1988. 76 с.
Research papers in collections:
Точилина С.В., Вагина Н.К., Гапликова Л.Н. Палеоокеанологические исследования северо-запада Тихого океана на примере экологической дивергенции радиолярий // Дальневосточные моря России в 4 кн. /гл. ред. В.А. Акуличев. М.: Наука, 2007. Книга 2. Исследование морских экосистем и биоресурсов. С. 579–590.
Цой И.Б., Вагина Н.К. Изменение среды северо-западной части Японского моря в позднем кайнозое (по палеонтологическим данным) // Дальневосточные моря России. Книга 3. Геолого-геофизические исследования. М.: Наука, 2007. С. 99–116.
Research papers:
Obrezkova M.S., Tsoy I.B., Semiletov I.P., Vagina N.K., Karnaukh V.N., Dudarev O.V. Micropaleontological assessment of sediments from Buor-Khaya Bay (Laptev Sea) // Quaternary International. 2019. Vol. 508. P. 60–69. DOI: 10.1016/j.quaint.2018.10.033.
Цой И.Б., Горовая М.Т., Василенко Л.В., Ващенкова Н.Г., Вагина Н.К. Возраст и условия формирования пород осадочного чехла плато Уллын Японского моря по микропалеонтологическим данным // Стратиграфия. Геол. корреляция. 2017. Т. 25, № 1. С. 85–108. DOI: 10.7868/SO869592X17010070.
Цой И.Б., Вагина Н.К. Палеонтологическая характеристика верхнекайнозойских осадков и изменение среды в районе залива Петра Великого (Японское море) // Тихоокеанская геология. 2008. Т. 27, № 3. С. 44–61.
Вагина Н.К. Дифференциация растительности Япономорского региона в неогене // Новости палеонтологии и стратиграфии: Вып. 10-11: Приложение к журналу «Геология и геофизика». Т. 49. 2008. Новосибирск: Изд-во СО РАН, 2008. С. 317–320.
Involvement in national and international projects
"Far East" Basic Research Program of the FEB RAS (2015-2017): No. 15-I-1-004о "Evolution of the foundation and sedimentary cover of marginal seas of the continental-ocean transition zone of the Northwest Pacific in the Mesozoic-Cenozoic". Responsible Executive.
International project of FEB RAS and NNS of Taiwan (2014-2016): Project No. 14-NNS-002 "High-Resolution Records of the Response of Paleo-Oceanology of the Bering Sea and the Northwest Pacific Ocean to Global Climate Changes in the Late Pleistocene – Holocene". Responsible Executive.