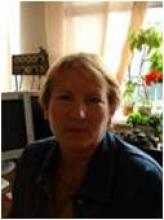 Education
Leningrad State University (1974), geochemistry
Area of expertise
Use of gas geochemical indicators for mapping fault zones, assessing seismic activity and earthquake prediction
Interconnections between geochemical fields and mineral associations in gas anomaly zones
Research highlights
Identifying zones of concentration of a number of elements in the surface layer of sediments in areas, controlled by neotectonic faults and characterized by gas anomalies (East Siberian Sea)
Study of geochemical features of distribution of a wide range of chemical elements in mud volcanoes (Sakhalin Island)
Establishing links between composition of autigenic minerals and composition of spontaneous gases
Key publications
Астахова Н.В., Сорочинская А.В. Аутигенные карбонаты в верхнеплейстоцен-голоценовых отложениях окраинных морей северо-западной части Тихого океана. // Тихоокеанская геология, т.18, № 1, 1999, с. 41-49.
Сорочинская А.В., Можеровский А.В., Обжиров А.И. Кальциевый сидерит(сидеродот) в осадках Южно-Китайского моря. // Тихоокеанская геология", т.19, № 3, 2000. С. 44 – 48.
Астахова Н.В., Сорочинская А.В. Гидротермальные образования в осадках впадины Дерюгина Охотского моря. // Океанология, т.41, №3, 2001, С. 447-455.
Шакиров Р.Б., Сорочинская А.В., Обжиров А.И. и др. Геохимическиие и минералогические особенности грязевых вулканов о. Сахалин. // Вестник ДВО РАН, 2008, №4, с. 58-65.
Шакиров Р.Б., Сорочинская А.В., Обжиров А.И., Зарубина Н.В. Газогеохимические особенности осадков Восточно-Сибирского моря. // Вестник ДВО РАН, 2010, №6, с. 101-108.
Шакиров Р.Б., Сорочинская А.В., Обжиров А.И. Газогеохимические аномалии в осадках Восточно-Сибирского моря. // Вестник КРАУНЦ. Науки о Земле» 2013. .№ 1. Вып. 21. С. 232-243.
Полоник Н.С., Шакиров Р.Б., Сорочинская А.В., Обжиров А.И. Изучение состава углеводородных компонентов Южно-Сахалинского и Пугачевского грязевых вулканов.// ДАН РАН, 2015, т.462, №1,с. 79-83.
Сорочинская А.В., Шакиров Р.Б., Веникова А.Л., Пестрикова Н.Л. Элементы-примеси в современной сопочной брекчии грязевых вулканов о. Сахалин. // Вестник КРАУНЦ. Науки о Земле, 2015, №1, вып.25, с.231-242.
Р. Б. Шакиров, А. И. Обжиров, Н. С. Сырбу, Нгуен Ну Чунг, Зыонг Куок Хын, Е. В. Мальцева, А. В. Сорочинская и др. Особенности распределения природных газов в донных осадках и воде северо-западной части залива Тонкинского залива (Южно-Китайское море, Вьетнам). // География и природные ресурсы. №4. 2015 с.178-188.
Advanced research
Search and forecast of oil and gas deposits
Mapping tectonically active zones and hydrothermal manifestations on land and in the sea using geological, geophysical, hydroacoustic, oceanological, and bathymetric characteristics
Involvement in national and international projects
Implementation of fundamental scientific research (GP 14) on the project: "Gas-geochemical fields of the East Asian seas, geodynamic processes and natural gas flows affecting the formation of geological structures with hydrocarbon deposits and authigenic mineralization in bottom sediments." (0271-2016-0008). Executor.
Contributions to conferences
.
Additional information
POI FEB RAS expeditions to South-Eastern Asia, Indian Ocean, etc.